News
Illawarra Community Foundation launches the 2023 i98FM Illawarra Convoy!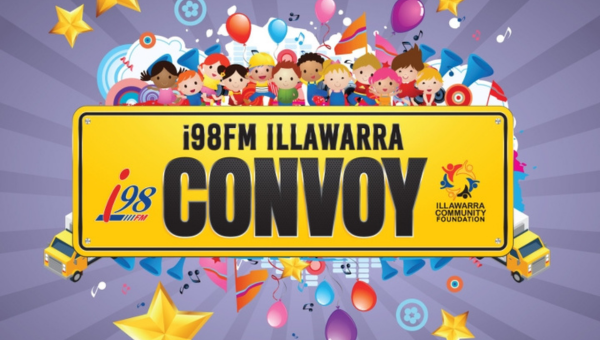 In 2022, i98FM's Illawarra Convoy eclipsed $22 million dollars raised since the events inception in 2005. This year is back for its 19-year anniversary, Sunday 19th November, for what organisers are hoping to be the biggest event yet.
This morning, i98FM Breakfast Show hosts Marty Haynes, Christian McEwan and Bella Leone helped to launch the event at the brand new i98FM Illawarra Convoy shop and headquarters located at Croome Lane, Albion Park Rail. They were joined by members from the local truck and motorbike community along with many of the recipients of funding provided by the Illawarra Community Foundation, the benefitting charity of Convoy.
Registrations for Trucks and Motorbikes are now open officially online and cost $50, with a complimentary event t-shirt included. Participants can also select from a huge range of Convoy merchandise on the Convoy website where they can receive free delivery thanks to Aramex.
"Over the last few years our online merchandise store and online registrations have been essential to get our merchandise out to the public. Nowadays you don't even have to leave your home, to get your truck or bike registered and receive all your merchandise for Convoy and we have people registering and ordering from all over Australia!" said Convoy Manager Mark Rigby.
The brand-new Convoy Headquarters and shop located at Croome Lane Albion Park Rail, is scheduled to open in the coming days with the finishing touches being made on the building thanks to a range of generous supporters.
"It's been great to see so many businesses come on board to help get the new purpose-built Convoy headquarters ready for this year's event." Said Convoy founder Marty Haynes. "We've had MJ Rowles donate the building for us to use, and donated products, skills and labour from; Bluescope, Ranbuild, Coastal Windows and Doors , Apex Custom Floor Coverings, TAK Shed Co, South Coast Decorative Concrete Supplies, Kebsen Fabrication, United Building Products, Pipe and Engineering Supply Co, Universal Flooring Xtra Yallah, Aspiration Graphics and Leisure Coast Kitchens. The support and the Convoy spirit has been simply amazing!" said Marty.
The i98FM Illawarra Convoy will depart under police escort from the South 32 Illawarra Coal's West Cliff Colliery on Appin Rd at 8am on Sunday 19th of November and follow a route that will take them down Mt Ousley through Warrawong and past Stockland Shellharbour, through Albion Park Rail, then into the Shellharbour Airport for the Free Family Fun Day, which was unable to proceed in 2020, and 2021 due to Covid-19 restrictions, and in 2022 due to 90km/h gail force winds.
"We are excited to bring Convoy back in its full form this year with the Free Family Fun Day and can't wait to see the community back together again for this amazing day - hopefully with nicer weather than last year", said Convoy manager, Mark Rigby. "We are in the midst of planning a fun-filled free day for the community, which will include performances by Ricki-Lee and Thirsty Merc, world class FMX motocross displays, junkyard stunt shows, kids rides, helicopter joy flights, motor vehicle static displays, over 60 food and market stalls and, of course, the arrival of the truck and motorbike Convoy."
Bidding for the coveted lead truck auction will occur on Thursday November 16 with the Lead Bike Auction happening on Wednesday November 15 with Marty, Christian and Bella for Breakfast on i98FM. With Menai Haulage taking out Lead Truck in 2022, and Coles taking out Lead Motorbike, the competition is heating up this year as many groups have been actively fundraising throughout the year.
"There's been plenty of great, innovative fundraising events happening by our lead truck and bike teams, and we can't wait to get surprised again when the bidding occurs in November! There's been golf days, boxing events, gala dinners, an Oz tag day, ladies' luncheons, scavenger hunts, and even a ferret race this year! When we started Convoy back in 2005, we never dreamt it could get this big. Now in its 19th year we are looking forward to another massive day supporting those who need it most!" said i98FM Breakfast Show host and Convoy Founder, Marty Haynes.
To stay up to date with all things Convoy head to illawarraconvoy.com.au