News
Severe weather warning for southern Illawarra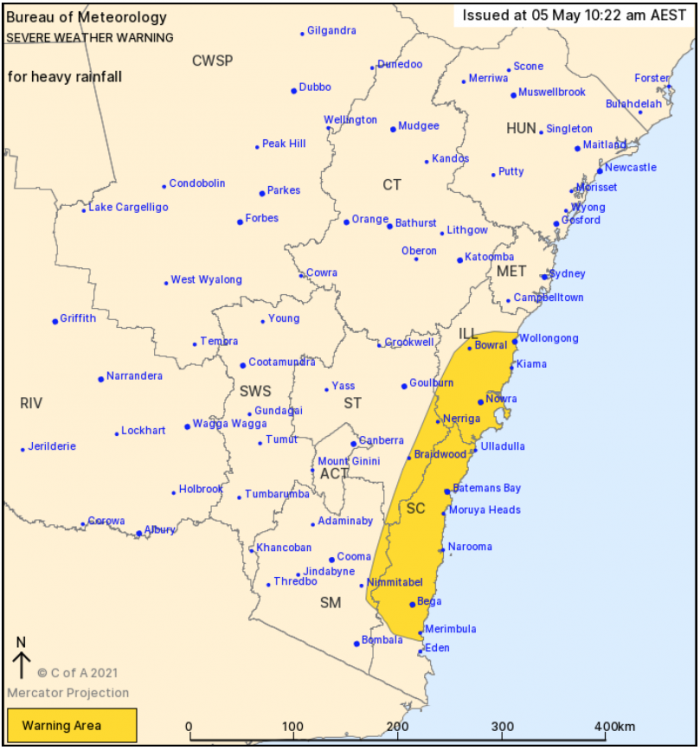 The Illawarra and South Coast are being told to brace for heavy with a severe weather warning issued by the Bureau of Meteorology.
A trough lies along the New South Wales coast, with a low pressure system forecast to develop along the trough off the north coast during the course of Wednesday.
This system is directing persistent and widespread rain and isolated thunderstorms over the southeast.
Heavy rainfall which may lead to FLASH FLOODING is expected to continue during Wednesday over the South Coast, southern Illawarra and adjacent ranges.
Thunderstorms are expected and may locally enhance rainfall.
Locations which may be affected include Nowra, Batemans Bay, Eden, Bega, Moruya Heads and Nerriga.
The Foxground rain gauge has reported 82mm in the 3hrs to 8:30am Wednesday
Observed rainfall totals from 9:00 am Tuesday to 8:00 am Wednesday include:
- 155 mm at Black Range
- 120mm Bega R at Kanoona
- 119mm Kameruka Estate
- 115mm Bega AWS
- 112mm Angledale
The State Emergency Service advises that people should:
* Don't drive, ride or walk through flood water.
* Keep clear of creeks and storm drains.
* If you are trapped by flash flooding, seek refuge in the highest available place and ring 000 if you need rescue.
* Be aware that run-off from rainfall in fire affected areas may behave differently and be more rapid. It may also contain
debris such as ash, soil, trees and rocks.
* After bushfires, heavy rain and the loss of foliage can make the ground soft and heavy, leading to a greater chance of
landslides.
* Stay vigilant and monitor conditions. Note that the landscape may have changed following bushfires.
* For emergency help in floods and storms, ring your local SES Unit on 132 500.
Check out the Bureau's website at www.bom.gov.au for more info.