News
Qantas attempting New York to Sydney non-stop research flight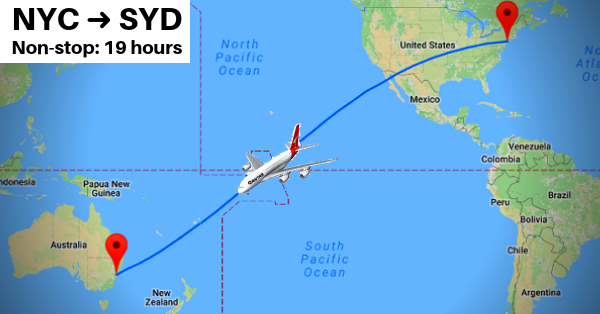 This weekend Qantas will embark on an unprecedented journey when they attempt to fly non-stop from New York to Sydney as part of their research and development program.
The flight will kick-off the company's 'Project Sunrise' – an initiative to create commercial non-stop flights from Sydney to New York and London.
On Saturday morning Australian time, a new Boeing 787-9 Dreamliner will depart New York with a small group of Qantas employees to gather valuable data on the pioneering long-haul flight.
The test flight to Sydney will carry a maximum of 40 people (including crew) to minimise weight and increase fuel range. Each person travelling in the main cabin will be fitted with wearable technology devices to measure the physical and emotional toll of the estimated 19-hour journey.
All of the passenger's activity including sleep patterns, food and beverage consumption, lighting, physical movement and inflight entertainment will be monitored by a team of scientists and medical experts to assess their health, wellbeing and body clock.
No commercial airline has ever flown direct from New York to Australia. Qantas has once flown non-stop from London to Sydney in 1989 to mark the entry into service of the Boeing 747-400. That flight had a total of 23 people on board and minimal internal fit-out in order to provide the range. The aircraft, registered VH-OJA, was donated by Qantas in 2017 to the Historical Aircraft Restoration Society in Albion Park Rail.
More here.