News
Our greatest ever Olympian, Emma McKeon, launches #vaxtheillawarra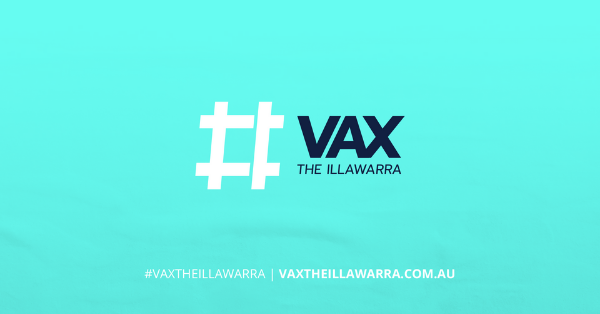 Just days after returning to Wollongong from her all-conquering efforts at Tokyo, Australia's most successful Olympian, Emma McKeon, today helped launch an ambitious local campaign to promote COVID-19 vaccinations.

The aim of the #vaxtheillawarra campaign is to see the Illawarra region become the first in Australia to achieve the target of 80% of eligible adults fully vaccinated (at present we are at 32.7%).

Every day of the campaign #vaxtheillawarra ambassadors will drive the vaccination message. Information will be shared on the Vax The Illawarra website, tracking progress towards the 80% target and listing places where vaccines are available and how to book. You can find the website at www.vaxtheillawarra.com.au.

Emma McKeon, isn't just Australia's greatest Olympian with 11 medals at two Games, she's also a recent graduate in public health, and had no hesitation in agreeing to be a part of the campaign in support of the community she loves.

'The #vaxtheillawarra campaign is a great campaign to get behind and I had no hesitation in offering whatever support I could because the sooner we all get vaccinated and get to 80 percent the sooner we can get back to normal,' Emma said.

'We can all be a bit competitive, imagine if we were the first region to get to 80 per cent; that would be a really cool thing and that's why I'm so supportive of this campaign.

'It's been challenging coming back from the Olympics, going straight into two weeks quarantine and then straight into lockdown here in Wollongong, because I really want to go out and have some fun. Hopefully soon we can all go out and celebrate and all be back together again,' Emma added.

Emma joins dozens of high-profile sporting, community, multicultural and business leaders are encouraging every eligible resident of the Illawarra region to register for their COVID vaccination with the aim of ending the long lockdown and returning our lives to something like normal.

Created by a small but passionate group of local business and community leaders, the message behind #vaxtheillawarra is simple, according to business owner and former Wollongong Citizen of the Year, Vicki Tiegs OAM – 'get vaccinated'!

'It's only through vaccination that Australia and our region will come out of this COVID nightmare, helping businesses reopen, getting families back together, people back to work, and kids back to school,' Vicki said.

'The Illawarra has always been a supportive region, especially when times are tough. None of us have faced anything like we're going through right now. But the really good news is that our future is largely in our own hands 'It's our chance to come together as a region for the benefit of all, and through our efforts, we hope to inspire the rest of Australia to strive for that magical 80% vaccination number as early as possible.

'Much of the Illawarra is now into its third month of lockdown. It's impacted everyone in the region; in business, sport, family life, community groups and our regular social contacts. It's also impacted our physical and our mental health and we know people are hurting,' Vicki added.

Another world champion, UFC fighter, Alexander 'The Great' Volkanovski, is supporting the campaign, having been struck down by COVID-19 himself earlier this year.

'Like everyone else, we want to get our lives back to normal as soon as we can and the best way to do that is through mass vaccination,' Alex said.

The #vaxtheillawarra campaign is supported by dozens of local organisations who see the next three months as a moment in time where every single person will get the chance to step up to make a difference.

Dr Bruce Ashford, is Co-Chair of the Illawarra Shoalhaven Local Health District's COVID Response Task Force and another ambassador for #vaxtheillawarra.

'Right now, there's plenty of AstraZeneca available. We're assured there's more Pfizer coming in the weeks ahead and Moderna is now approved to further boost supplies,' [JL1] [D2] Dr Ashford said. 'We will also have plenty of places right across the region where vaccines can be accessed. The important point right now is for anyone who hasn't already registered to get their name down so we can hit our targets as soon as possible. Because hitting these targets means protecting ourselves, our families and the community. And for the hospital, hitting the targets means us getting back to normal activity.

'I see the strength of #vaxtheillawarra being its simplicity. The message is simple; book now for your vaccine. The process is simple and it takes only a few minutes. The benefits are overwhelmingly positive; returning sooner to something like the life we all enjoyed before the start of the pandemic.'

As a grass roots, non-political campaign, the success of #vaxtheillawarra will rely on people power. Organisers want to convince those who are 'vaccination hesitant' of the benefits of getting the jab, and for everyone to share their messages of support on their social platforms using the hashtag #vaxtheillawarra.

'We're all in this together, Illawarra – let's proudly be the first region to achieve 80% vaccination in our nation and be Illawarra Proud yet again,' Vicki Tiegs added.