News
Let's talk about fried chicken on donuts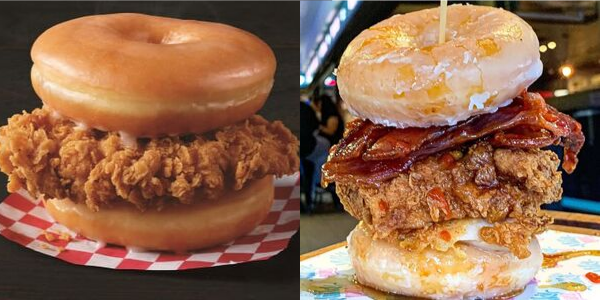 As news broke yesterday that KFC were trialling their famous fried chicken served between a pair of glazed donuts, junk food connoisseurs worldwide quickly began sizing up whether or not they were willing to take on this creation.
But before many people could get their head around this new fandangled monstrosity, the fine print details of its release would unravel – KFC was only trialling this in two regional areas in the USA (Richmond/Norfolk, VA & Pittsburgh, PA).
So essentially this fried chicken donut burger was taken out of most people's hands before they could even make a decision on it, and for those of us in Australia – forget about it!
Luckily for us, burger maestros Milky Lane stepped up to the challenge!
These crafty folks jumped into the laboratory and swiftly announced they would gallantly pick up the ball that KFC dropped.
They even added maple smoked bacon and hot sauce to their version! GOOD LAWD!
If you need to try this bad boy, the closest Milky Lane to the Illawarra is in Cronulla.
Now, the folks at Milky Lane have been known to throw out teasers about opening a restaurant in Wollongong, well right about now would be a great time to drop one on us – thanks in advance!