News
Crown Street development is a WIN for Wollongong CBD revitalisation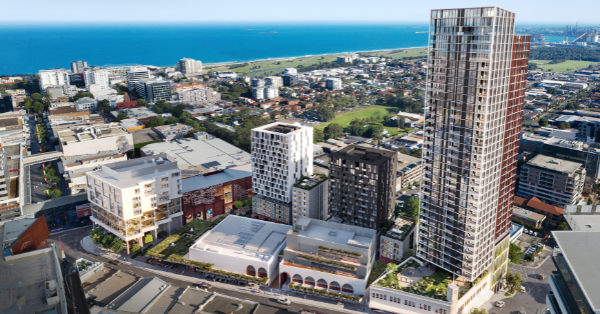 An exciting mixed-use development proposal for Crown Street, west of the city Mall, is set to revitalise the city centre, positioning Wollongong as a vital social and economic hub.

WIN Grand, bordered by Crown, Keira, Burelli and Atchison Streets, will create a connected city centre by opening this pivotal block for community activation.

Positioned to achieve Carbon Neutral certification in operation as part of its broader sustainability strategy, the project aims to become Wollongong's first Carbon Neutral Precinct, creating a new benchmark and leadership position for Wollongong and the region.

The project will make significant improvements to the current public domain and streets that surround the site, while achieving strategic planning objectives such as jobs and housing growth. Occupying an entire city block, the highly accessible and connected location will contribute to a stronger night-time economy with enhanced retail, leisure and entertainment facilities.

The WIN Grand proposal aims to make a positive contribution to Wollongong by creating a dynamic work, live, play precinct that draws both business and individuals to the city centre.

The vision of WIN owner Bruce Gordon, who has long championed the city, WIN Grand will incorporate into the Crown Street precinct all of the elements that drive a successful, innovative urban centre.

To be developed by Birketu, Gordon's private company, the project concept has been realised following five years of consultation with Wollongong City Council, extensive research on the region's demographics, and through a design competition run in early 2020 which was awarded to Australian architectural firm, BVN.

The world-class design includes a new benchmark in commercial office and co-working space to attract innovative thinkers and forward-thinking organisations. Thriving arts, entertainment and leisure infrastructure along with on-trend cafes, bars and restaurants will activate the after-hours night-time economy and create a lifestyle focal point that builds on our reputation for cultural events and live performance.

Retail opportunities that encourage local artisans and producers will complement the larger retail centres nearby and will be supported by the residents who choose to make the inner city their home. As part of the design, the precinct proposes a 35 percent increase on green canopy coverage, adding a significant amount of landscaping to this central city location.

Birketu and WIN Network CEO Andrew Lancaster said the iconic design aimed to respect the city's past while driving it towards an exciting future.

"Wollongong is the city of innovation and WIN Grand aims to encourage fresh business and commercial opportunities by creating a strong pulse of activity within the city centre," he said.

"All successful major cities stand out because they have an energy that runs 18 hours a day. To do that you need the business activity during the day extending into a strong entertainment and leisure program at night. You need people living and working in close proximity to shops, business and lifestyle opportunities.

"This development builds significantly on what Wollongong is already offering and it does it well. It revitalises a tired part of the city, lifts our image, provides an amazing connection from the train station, through the city centre, and down to the beach, and delivers the population needed to sustain it all.

"The Gordon family has long championed Wollongong, both economically through its business holdings, and culturally through the arts and sports. This project continues that tradition of investment in a city they love and helping it grow into a progressive, dynamic city."

ColonySix Director Steve Turner has been working with WIN as Development Manager on the project for five years and said WIN Grand is an exciting opportunity for the city centre's next chapter.

"The area west of Keira Street has long been a priority for Wollongong City Council. This consolidated development will revitalise the area and better connect the train station to the CBD," he said. "It is a strategically important project for the city, as it completes the development of the fourth city block at the intersection of Crown and Keira streets, where Wollongong Central occupies the other three sites.

"No other property owner could deliver this project. The site is a unique opportunity for the city centre and will deliver the city centre's first truly mixed-use precinct of scale. It offers significant public benefit, comprising residential, retail, health and wellbeing, commercial office and cultural facilities supported by great public spaces.

Plans for WIN Grand are now on exhibition with Wollongong City Council. If approved it is anticipated work could commence as early as 2022 and is targeted for completion in 2025.

For more information, visit www.wingrand.com.au.