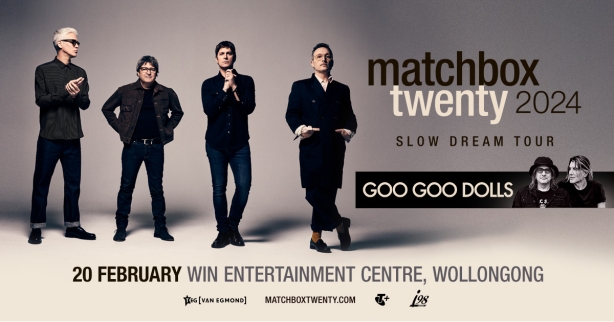 i98 Presents Matchbox Twenty 'Slow Dream Tour' at the Win Entertainment Centre - Feb 2024
i98FM is proud to present Matchbox Twenty 'Slow Dream' Tour supported by Goo Goo Dolls coming to the WIN Entertainment Centre Feb 20, 2024!
The tour is in support their new album "Where The Light Goes", due out on May 26 and the band's first new music in 11 years! The multi-Platinum, hit-making, superstars last toured our shores in 2012 – as part of their 'North' tour.
Matchbox Twenty have sold over 40 million records worldwide, dominating the charts and performing for millions of fans in arenas and stadiums all around the globe. From ruling MTV and radio playlists, Matchbox Twenty have also clocked up billions of streams in recent years, which speaks to the enduring appeal of their music.
In April this year, Matchbox Twenty dropped their first new music in over a decade: 'Wild Dogs (Running In A Slow Dream)', the lead single from their upcoming fifth record 'Where The Light Goes' (due 26th May) – following up 2012's chart-topping 'North' album. 'Where The Light Goes' delivers another great batch of real, relevant, and relatable songs from Matchbox Twenty.
During their upcoming Australian shows, fans can expect to hear Matchbox Twenty's crowd-pleasing hits from across their impressive back catalogue – including '3AM', 'Push', 'Bent' and 'How Far We've Come' – alongside a smattering of brand new material (aka instant classics). Fans are encouraged to secure tickets early to avoid disappointment.
For all ticketing and tour information head to: www.tegvanegmond.com