Blogs
A Fried Chicken Bouquet for Valentine's Day
KFC in New Zealand is giving 20 lucky fried chicken enthusiasts the ultimate edible bouquet for Valentine's Day. The chicken bouquet is made up of popcorn chicken, crispy strips and drumsticks, with the competition run through their Facebook page.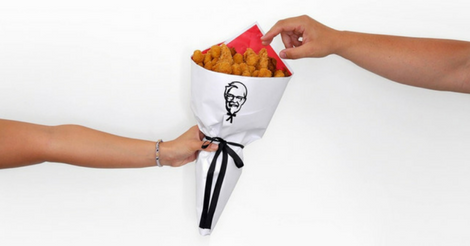 Here in Australia, KFC is looking for the nation's Best Wingman or Wingwomen through a Facebook promotion drawn today at 3pm. The winner of the real-time online vote will score a year's supply of Wicked Wings.
This isn't the first time KFC has offered odd products for romantic events; believe it or not in 2014 KFC in Louisville, Kentucky offered limited chicken drumstick corsages for prom dates!