Blogs
13 tweets you NEED to see from Last night's Bachelor in Paradise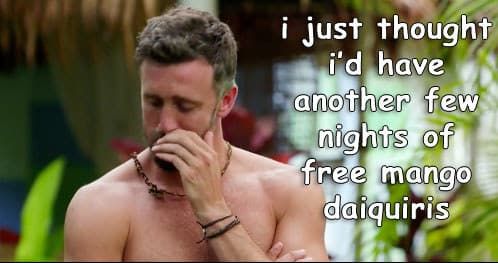 Espisode nine was a wild ride: love letters, bro dates and Mango daiquiris! But still no sunscreen...
1. Everyone one can go home now, Sam and Luke win. Give them all the roses.
2. When Mango daiquiris are life.
3. I'm not angry just disappointed...
4. SLIP. SLOP. SLAP. SIP. - come on guys I even made it into a drinking game...
5. You're from Canada aaayeee?
6. When they say 'fashion industry' is that just a fancy way of saying retail?
7. Let's be real... this wasn't even the weirdest part of last nights ep.
8. Give the people what they want... MORE BRO DATES!
9. The biggest scandal to rock Paradise... since Brett and his 'secret' girlfriend!
10. We're going to need one of Australia's best and brightest to crack this case...
11. DRAMAAAA
12. I am still shooketh...
13. Sorry everyone. He may have gotten a rose (by some ridiculous miracle)... but EDEN has been cancelled. Thanks for your time.